See "Blind Ambition" the movie at Hot Docs (live or live-streamed) in support of
the Stephen Lewis Foundation's Grandmothers to Grandmothers Campaign!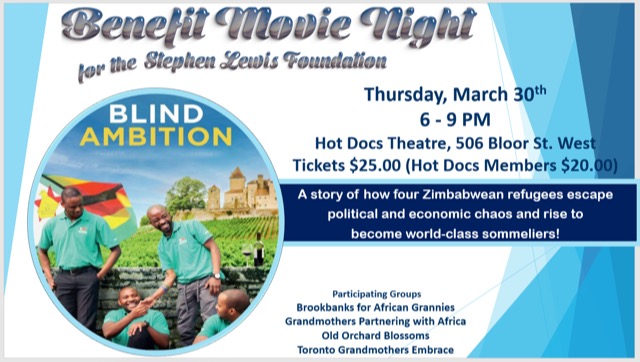 You are invited to a fun benefit screening of the film Blind Ambition at Hot Docs Theatre on Thursday March 30 at 6:00 PM. For those who can't make it to the theatre that night, the movie will also be available to stream to your home for 48 hours from 6:30 PM on March 30.

Blind Ambition is the life-affirming and true story of the completely-unlikely journey of four Zimbabwean refuges who become world-class sommeliers and compete in the "World Wine Tasting Championships" in Burgundy, France. Described on Rotten Tomatoes as "heartwarming and inspirational", "a rich and satisfying subject", "a rousing immigrant story begging to be told", it is the winner of the 2021 Tribeca Film Festival Audience Award.

Your theatre ticket includes a glass of wine donated by our sponsor, The Wines of South Africa for guests 19+. This live event will include an interview after the film with a local sommelier, Beverly Crandon, on stage.

Ticket sales support the Grandmothers to Grandmothers Campaign of the Stephen Lewis Foundation.

DETAILS

WHEN: Thursday March 30, 6:00 PM for 6:30 PM screening. Doors open at 5:30 PM

WHERE: In person at Hot DocsTheatre (506 Bloor St West) or live-streamed to your home for 48 hours, starting at 6:30

TICKETS: $25 ($20 for HotDocs members) includes a glass of wine before, and an interview with local sommelier Beverly Crandon after, or livestreaming for those who can't attend in person.

BUY TICKETS here.

If you would like to make a donation to this event, you can make a donation here.

PLEASE JOIN US AND BRING A FRIEND OR TWO.

CHEERS!